07-11-2012, 08:11 PM (This post was last modified: 07-11-2012, 08:15 PM by Merlecollins.)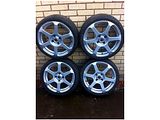 I've got the chance of these. They are Fox but the gentleman that is selling them can't tell me the tyre size. He says that he was told by a local tyre shop they are both van and car rated, but doesn't now the name of the wheel for me to check.
Do you think they would be OK on my MK2?