I've just returned from taking my parents to Pembrokeshire for a week, and my Blue Slug showed varying degrees of enthusiasm for the many gradients on offer. The fact that I even got down there is quite remarkable after the events leading up to Saturday 17th departure.
Friday - went to jet wash and vacuum the Slug for general pre-hols spruce up. Left garage and within half a mile, the front near side suspension spring exploded in a big way. Limped to parents house and left car there cos it was closer to garage who said they could fit in my repair on Saturday morning.
Saturday - picked up car at parents really early and within 30 yards, the broken spring pierced its neighbouring tyre in a spectacular way waking any local resident who wasn't already up and about: :eek: Garage had no facility to tow me in, so I crawled just under a mile to them, being watched in awe by early risers walking their dogs or returning home with their morning papers. Enjoyed letting several cyclists pass me, some offering gestures to my by now shredded front tyre (as if I wasn't aware!) The fact that I looked like a Rodeo rider hanging on to the steering wheel whilst being thrown up and down with each revolution of the road wheels sort of gave it away
illyme:
Garage had trouble getting strut off, so I went away and got a haircut, returning to find them still struggling to release bottom nut. Eventually, the spring was replaced, even though the hydraulic spring compressor failed whilst my strut was in it. Had a shock at the £140 bill, which had an alleged discount from £170 cos they "know me".
They fitted my spare wheel which had a pleasing sticker on the tread to indicate it was brand new - then realised that it was a 175 and not a 185 tyre.
Went and bought reasonably priced tyre down the road, went home to collect my luggage, then set off to collect perents. Within half a mile, whilst coasting downhill to traffic lights, my gear lever suddenly hit the centre console - :brickwall: "What the hell" I politely said (actually screamed expletives that would have upset Bernard Manning). Upon a quick inspection, I could see that part of the gear linkage had separated, the long link that looks like a track rod end. A rubber bush holding part of a ball joint had completely split. So I pushed the link back on, selected reverse, reversed into side road, promptly got out and refitted link to select second gear and hobbled to tyre centre.
They couldn't help me at all, but suggested I went round corner to taxi ranks own maintenance depot. The guys there were unbelievably helpful, and were aware of this being a common Citroen fault, but they didn't have a replacement linkage in the building..(I should have been in Pembrokeshire by now). One of the mechanics obtained a rapid genius status by manufacturing a repair with Q Bond. This is basically Super Glue and a powder that is layered to form a solid. He even put the car on he ramps and lubricated all linkages for me, and I was finally on my way.
Thankful that none of the above had happened on a severely winding mountain road en route, I went and fuelled up. A full tank and a treatment of Redex went in, duly paid and on returning to car noticed an increasing pool of diesel under car :eek: I put that down to my ambitions at seeing what a full tank actually was in litres (55 I managed), and guessed that it had been overfilled. Some sand and an apology later, we were finally off. Every pitstop revealed leaking diesel, until the tank got to three quarters full, so I also know that there is a leak of some sort in the top quarter of the tank. Not a biggie, as I won't fill up like that again, but nonetheless frustrating after all previous ordeals.
The hols went really well, but on the way home I could smell burning oil, which looks like a replacement rocker gasket is needed as there is oil on the exhaust manifold (rear of rocker). There is now a distinct clunk coming from near side strut on full lock, or when manoeuvring - return to garage is imminent. I have also noticed a clear oil stain appearing under the car when parked, so can only guess at power steering is joining in the fun for good measure . . .
Whatever next? . . . .
Some pics of spring and tyre which is good enough reason to check the condition of your suspension springs regularly!
The broken spring and strut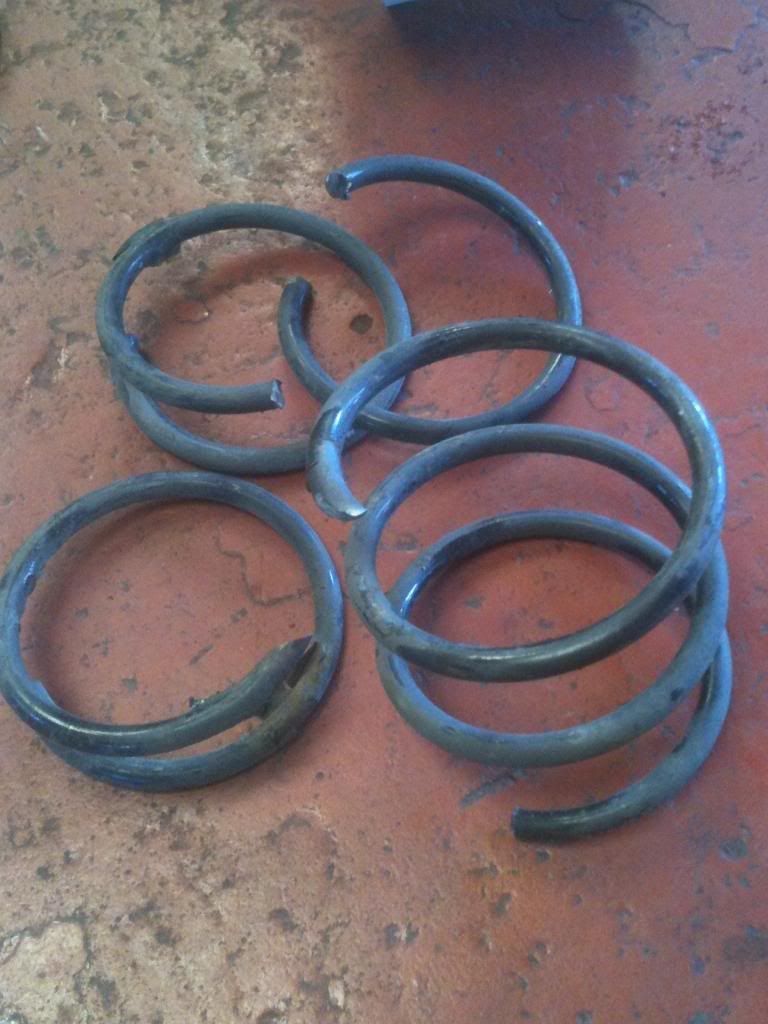 How many pieces!
The shredded tyre
Sadly it had a good tread on it too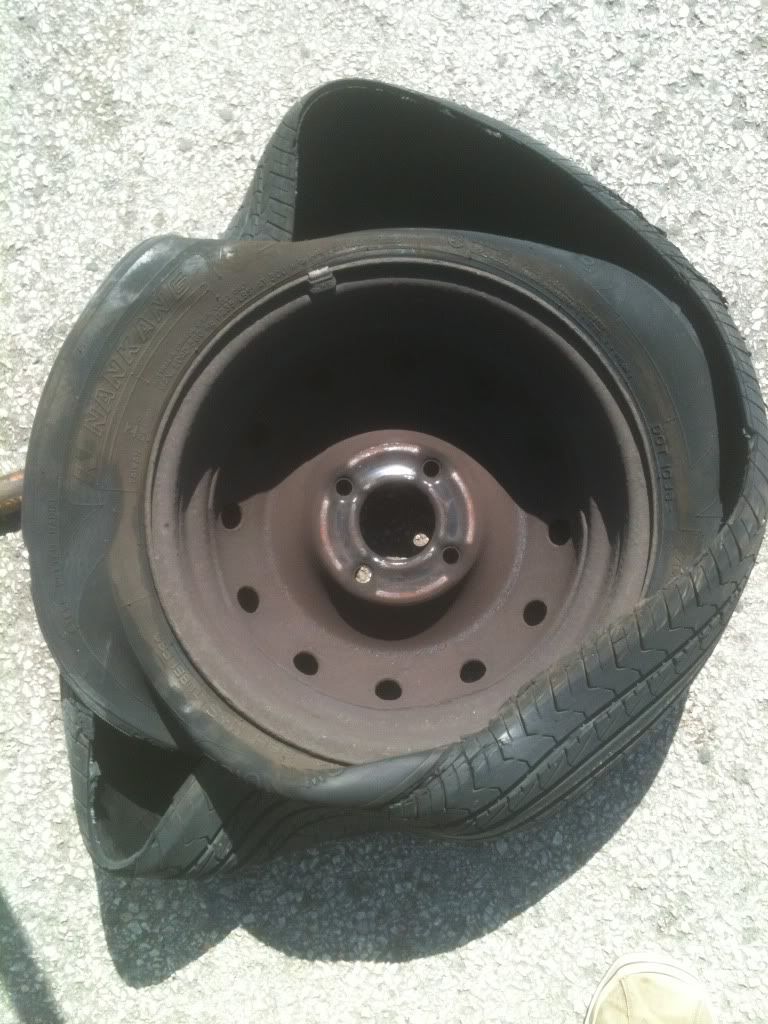 Imagine the noise this made whilst driving through the village :whistle:
0 to 60 - be patient, 0 to 100 - not in my lifetime! :eek:

It may be a slow Blue Slug, but it"s the only slow Blue Slug that I own :S