This is a copy and paste of my thread on Retro Rides forum. 
Found this forum looking for info on brakes etc.  
Ups and Downs and more of them....... Life is good.
This is what makes us what we are.
Thankfully in my world the various forums and friends I frequent keeps my sanity on a level plane.
So what do you do when life hands you a bucket of lemons??  Of course, you drink tequila.
I have been looking for a distraction that could be a tool as well for weeks, if not months.
This week I was interested in a 4.3 litre V6 Chevy S10 truck at sensible money in the U.K. Not a lot of them about at sensible money. Unfortunately it has had a bit of a chequered history and when I started asking the seller some questions, the answers to which I did not necessarily subscribe to, next thing he goes quiet, then I get a text that someone has offered him £500.00 more than the number he had offered it to me for........ I suspect it will be on EBay soon.
Anyway, Some of you know I have random, eclectic taste and next thing I looked at, after mates like Paul Y, CraigRK, Martin and others tried to rattle my wallet with various finds all over the world (literally) was a cheap Facebook trade page car.
I started this thread to find out more on various forums and learned enough to decide to go look at the car today, after speaking to the seller who is the second owner only, having bought it a year ago from the first owner.........
Thread:
http://retrorides.proboards.com/thread/1...ace-bought
So this was the ad.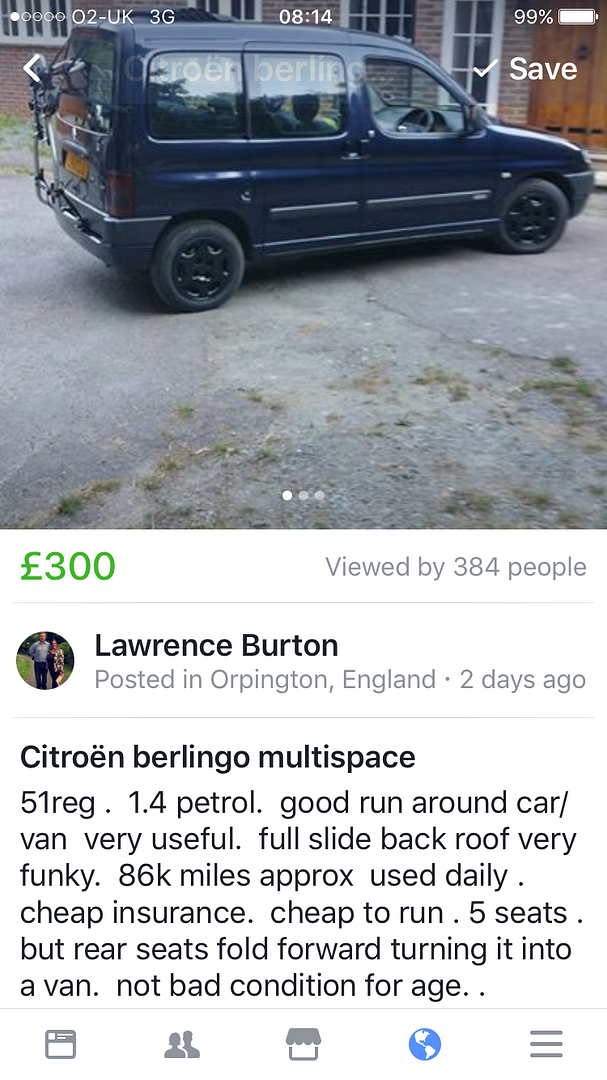 2001 model Citroen Berlingo Multispace in 1400cc petrol guise. A rip snorting 75bhp from the factory.
This car came with a full length electric sunroof.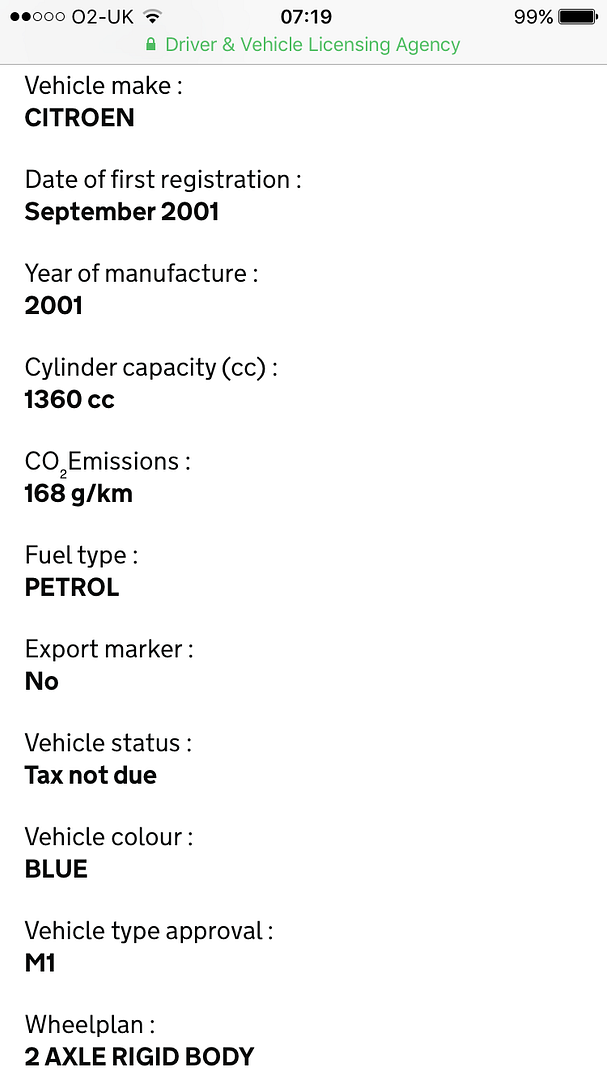 I called on mate Martin, always game, like me for any road trip, so this morning after his lady went to work, we walked his dog, then hit the road to go look at the car. 
By 09.00 we pulled up in the yard where the car was stored.
Seller a really nice guy, chatted, looked around the car, then took it for a quick test run.
A few small issues, all within the realm of a small car for cheap bicycle money. 
It seems it has had a load of attention over time, new tyres, exhaust, battery and steering parts as well as a timing belt about 4 yeas or 25k miles ago.
The brakes suck and need investigating. Probably pads, discs etc, but it seems they are reasonably cheap as well.
The drivers seat is in need of replacement in my world, still good but not good enough.
Back seats fold forward in two phases making for a large load area, and of course if you open the roof you could have 5 meter lengths of timber stacked through to the rear.
Electric sunroof is a pleasure to open and allow to fold back on itself.
Martin's drive was about 15 miles and my first drive about 30 miles and we both agreed that it is just a lovely little thing.
Having done only 86150 miles, confirmed by its MOT history, it maintains legal speeds easily up and downhill. 
The seller told us when we got there that the radio/cd player was wired in in such a way that you needed to pull the removable face off it when you parked up in order to switch off the dash lights...........
So at Martin's place, before even going indoors, he was straight into it and pulled the head unit out the dash.
This car has a CanBus wiring system......
Less said the better.
After an hour of trying to figure out the why and how of some clearly expert radio fitter, I ordered an ISO Lead off eBay which should help resolve the weird setup and fix all of this mess.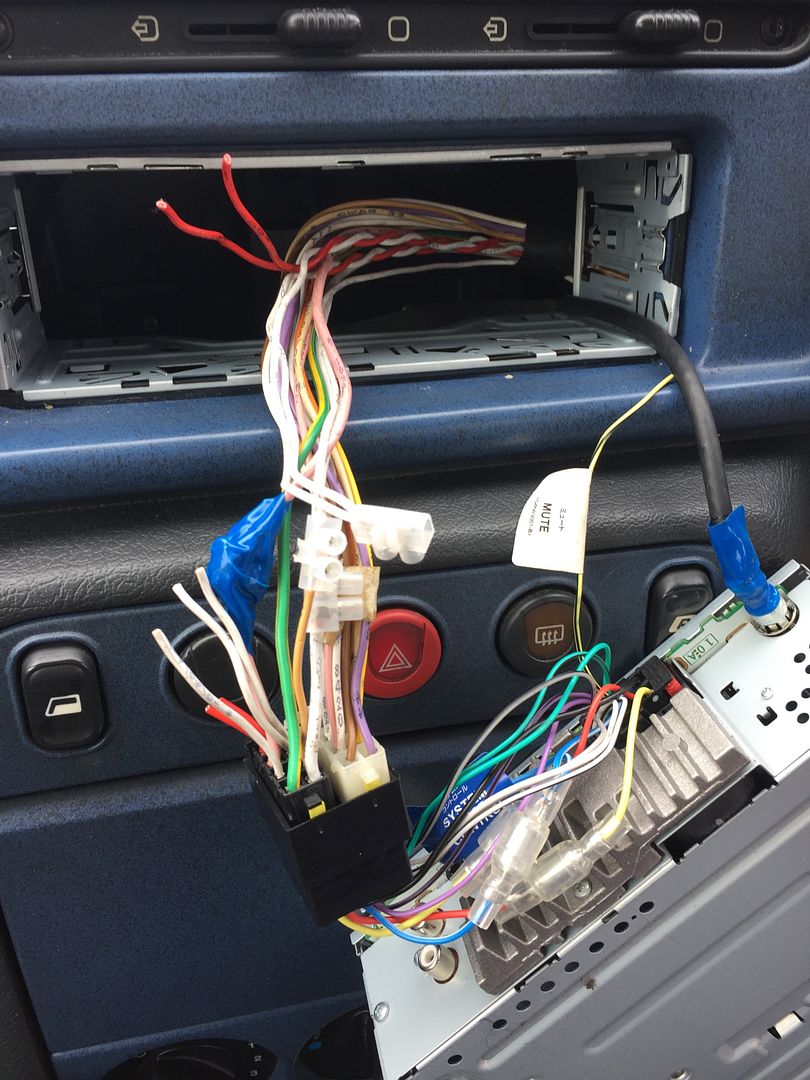 Current shoes......... on steelies with painted hubcaps. Nothing wrong with them.
However.....
Been offered a set of Saxo VTR wheels with 5 year old 185/65-14" wheels for £40.00 
Even without the tyres, I like them.
Kind of reminds me of the NASCAR wheels on mate Dennis in St Louis, Missouri's race trucks.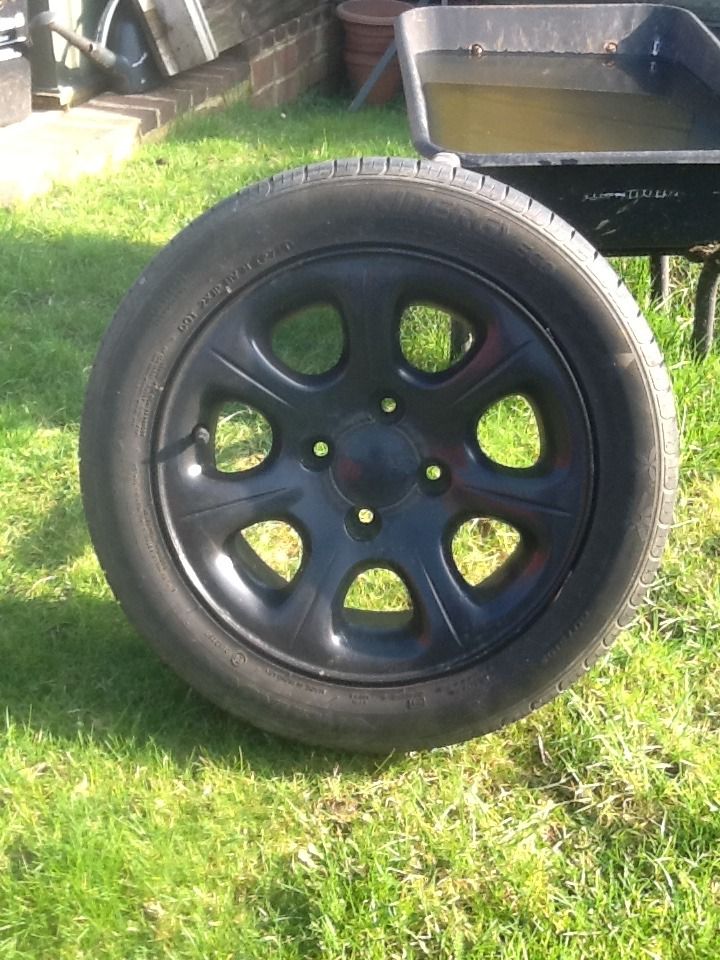 So I bring you my own version of Prozac for my Soul.
I need a bit of distraction right now. 
This little van should give me some of that.
Modification direction is not yet established, so happy for advice, input and ideas.
I like the Tiki surf wagon or Woody look, but also race support vehicle look.
Black rims are cool, and Gold will contrast more.........  what to do? Photoshop? 
I will be back with more photos tomorrow once I have given the van a look over.
Lastly, I thought that being a quirky tool I would rummage in the key ring box and find something interesting 
Hope you approve.